---
My favorite projects of 2021 and the apps that helped navigate the way. Learn how to use these apps for work and pleasure.
JANUARY
In the wake of the siege on the Capitol, the only way I knew how to process it was through think pieces and parody.
I absorbed think pieces from magazines and newspapers by listening to audio recordings on Audm – recited by voiceover professionals – using an app called Audm, because if I'd tried to read (like, with my eyes) I would have fallen asleep.
Audm features articles from publishers like The Atlantic, New Republic and Rolling Stone. These are the articles that you wish you had time to read.
When I could no longer think in peace, I moved to parody.
Observing social distancing pandemic protocols, my wife (Julie Rega) and I remotely directed Philip Sparkle through Zoom as he recorded footage on his iPhone.
In What's Q Got To Do With It, Philip performs in a fake muscle suit & faux fur poking fun at the Q-anon Shaman and the other conspiracy theorists who added January 6 to the list of dates that will live in infamy.
The video was removed by YouTube shortly after publication. So, we sent a Google Gatekeeper named Bryan a strongly-worded letter about the virtues of satire. The video was reinstated and artistic expression won the day!
---
FEBRUARY
Poking fun at insurrectionists was not my only creative collaboration with Julie in 2021. Through the Spring, we sketched out a children's book for our niece's 2nd birthday.
The Pal Book teaches counting, colors and animals. It is inspired by things you'll find in our niece's world. By the age of two, her world had consisted of the sights & sounds of New York City, Sarasota, Cape May and Connecticut.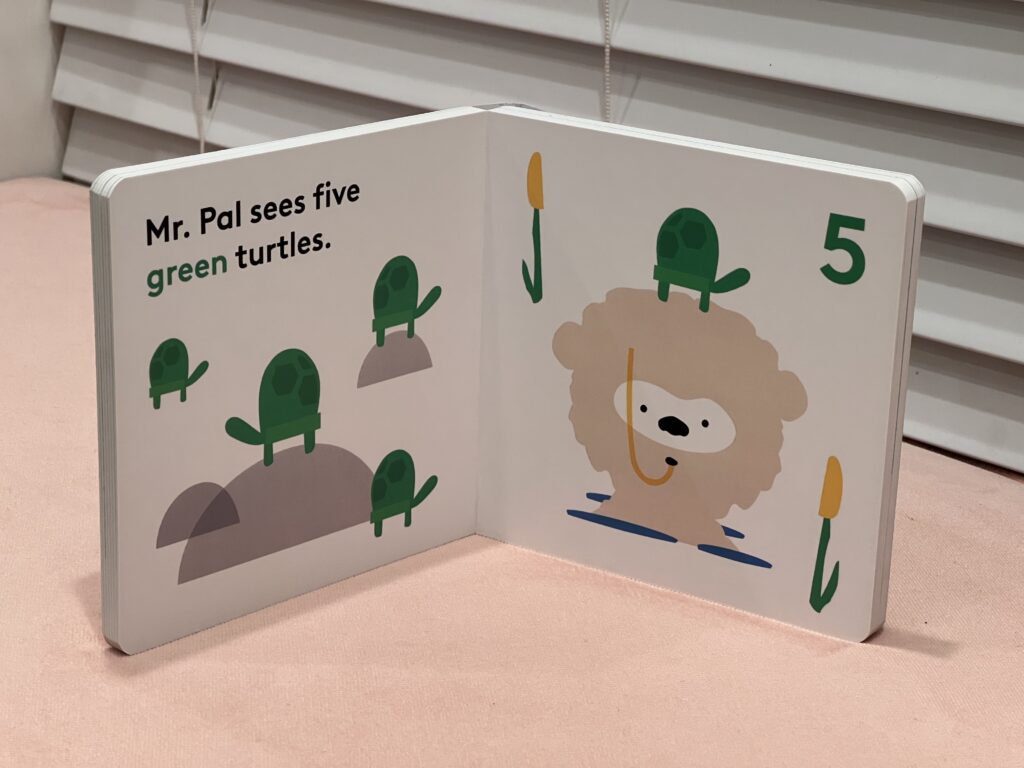 We sent the pages out for printing and got the book back in time for birthday cake.
---
MARCH
Life before Covid was filled with work, travel and adventure. A year into lockdown, I found myself in a slump. Business was slow and I did not know what to do with myself day-to-day. Julie suggested I start running. She'd been running since 2020 and it was doing a lot of good for her.
This may sound obvious, but when running you see more, faster.
My first run was through early morning fog. I'd never made it past the streets of Cape May Point into the marshy park trail at such an early hour. It was magical and I was hooked.
Humans get a jolt out of seeing the landscape evolve on the rolling horizon. Half the fun of road tripping and bike-riding is what flies by in the periphery.
Walking is great for examination and contemplation. But when you walk, it's a little too slow to see real change over time. Running let's you traverse those same paths – the ones only accessible by foot, but with running you go fast enough to see the terrain transform.
I've tracked all my runs on Strava since day one. It's like a diary for your heart rate. I title the runs, usually based on something I was thinking about or encountered along the way.
With Strava, you can upload photos snapped while en route and they're automatically geotagged onto your run map. Users enter competitions, join run clubs and it's also a low-key social network – with lots of positive vibes (you give kudos in lieu of "liking").
---
APRIL
APRIL | Balance: Meditation & Sleep | Meditation that adapts to you.
April was stressful.
A collaboration with artists and scientists from around the world was culminating at the end of April in a virtual exhibition with artifacts inspired by Long COVID. As the architect of the exhibition, there was a lot on the line for the site go live in time for launch.
48 hours prior to exhibition launch, I am slated to not only produce, but also moderate a separate panel discussion with Video Consortium EDU about VR Video for Nonfiction Filmmakers – on Zoom. Typically, I'm more comfortable behind the camera or with small groups in-person, but now I find myself slated to keep a coherent conversation flowing in front of an audience I cannot see. Did I mention I was stressed?
I turned to the Balance app.
Practicing the Anxiety and Concentration singles helped me to stay calm and focused. In addition to morning meditations, I added a Midday Reset. On the days of the exhibition and virtual panel I selected the Relaxation single to get in a good groove. It paid off.
---
MAY
Have you ever had a turkey burger without feeling like you're sacrificing something?
That's how I used to feel until I tried this recipe from the New York Times.
The recipe calls for an onion to be grated. I suspect this is the key to the turkey burger's exceptional deliciousness. The onion juice gels perfectly with the ketchup as you massage it all in with the meat.
Other choice selections include the Ginger-Lime Chicken, West African Peanut Soup and Sheet-Pan Baked Feta with Broccolini, Tomatoes and Lemon.
By May, we'd reunited with Julie's parents for the first time since the pandemic at the family home in Cape May Point, where we all lived happily alongside one another for two months.
While roommates with the in-laws, we'd take turns cooking for each other. The NY Times app was my go-to resource. No googling required, everything from that app tastes good.
The best part is the formatting. The steps are in nice, bite-sized chunks – easy to understand. The ingredients & preparation are structured the same from one recipe to the next. This saves a lot of time. You get right down to cooking.
One dish I can never pull off is ice cream, but not for lack of interest. I actually made a summer resolution to eat more ice cream, specifically from parlors, but cartons are ok too. The objective was really to eat more ice cream while strolling sidewalks under the open sky.
I first discovered Oatly as ice cream, not oat milk. I saw their distinct oat ice cream packaging at the bodega and had to give it a whirl. Impressive stuff! The vanilla is more than decent and I swear it takes longer to melt than your average scoop.
---
JUNE
For a long time, the holy grail of VR filmmaking was to let the audience walk around the scene, to explore the nooks and crannies with six degrees of freedom, to connect with the characters and environment in a way that more closely resembles how we connect in the physical world.
We are giving the audience agency. It is this unique promise of immersive storytelling that compels me to create content for the photo-realistic metaverse.
The Polycam app empowers creators with two forms of volumetric capture technology – LiDAR and photogrammetry – for free.
Users can scan a person, a pet or a parking lot all on their iPhone, generating a model that can be manipulated in 3D graphics software like Blender or game engines like Unity.
The first things I scanned with Polycam were a chair, Julie, Pal the dog and a large rock by a dilapidated former industrial complex. Rock textures look particularly good with Polycam.
Shortly thereafter I traveled back to New York City to scan my friend Micca.
Micca asked me to create a VR adaptation of her participatory experimental dance performance/ice cream party. This aligned perfectly with my summer resolution to eat more ice cream outside and get more ice cream inside the metaverse. Our collaboration began with Polycam.
Back in Brooklyn, I scanned our apartment living room. Julie and I had been looking for a living room rug for about two years, but we were in a state of decision paralysis.
I imported the living room scan into Unity where we modeled a few different rug designs for viewing inside the Oculus headset. After weighing the options inside our virtual living room, we decided to go with the cosmic yoke in a beige-peach ombre gradient.
---
JULY
By mid-summer, I headed out to San Francisco on my first flight since the pandemic for a project with Christie's for an international VR estate sale.
According to Google Maps my inn was just a half mile from the shoot location in Pacific Heights. "Great! I can roll my gear right to set."
Investment in pre-production is the key to a smooth production.
Helios Pro lets you visualize what shots will look like at any location, at any time or day of the year. Use it to scout with AR overlays on site or remotely with 3D maps and street view.
I'd previously used Helios Pro to determine the best times to capture the building's exterior, but I forgot all about the hills. There was no way the gear would be rolling anywhere by foot.
Good thing I arrived a day early to location scout and remind myself that San Francisco has hills 🤦
---
AUGUST
I'm flying a drone over fire as the talent approaches the stage.
As the drone descends upon the flames, my pocket starts blowing up with text messages. It's my neighbor back in New York. "We're flooding! Water is coming up from the floor, through the window and from under the door."
Besides piloting a drone, I'm also simultaneously recording from three terrestrial 360 cameras.
We'd prepped three days for this one shot. The band plays with the Oregon mountain sunset in the background. We've got a dolly, a crane, and one take to get it right.
The drone lands safely. We get the shot. Production wraps.
Julie is mid-flight, en route to meet me in Portland. There's standing water in our Brooklyn apartment. "Should we go back," we asked ourselves? "Wet is wet – what's a few more days?"
We proceeded with our hiking plans, skirting the wild fires and found ourselves at Mt. Rainier, the most topographically prominent mountain in the contiguous United States. There's glaciers up there too.
We love glaciers, but it's kind of difficult to follow any predetermined trail on a glacier.
Successful glacier navigation requires listening. You can hear how thin the ice is with each footstep. Sometimes we'd deviate from the trail because our ears told us to.
That's where AllTrails comes in. I'm a lifetime subscriber to AllTrails because it's a lifesaver.
AllTrails tracks your position with GPS, sends notifications if/when you veer off trail and records your path if you want to be sure to return the same way you came.
Darkness approached quickly as we descended from Camp Muir. The unique AllTrails path map, earlier dictated by our ears, served as our guide for a speedy trek down.
---
SEPTEMBER
Hurricane Ida set a record for the most rainfall in one hour in the history of New York City.
As Julie and I ripped out all the moldy water-logged drywall, I wrapped up post-production on From Sea to Rising Sea. Rather apropos, the project is a VR musical for kids about how we can combat climate change. It features the world-renowned synchronized swimming troupe, the Aqualilies as they plunge, flip and float in glorious stereoscopic 360 video.
Passion for stereoscopic image-making is in my blood – it goes back generations. My great-grandpa Moe hired a stereoscopic photographer to capture my grandparents' wedding in 3D back in September 1957!
To honor my grandparents' September anniversary, I digitized the images. Previously, they were only viewable on an old Kodaslide. Now, the images can be viewed with anaglyph glasses. Next, I'll optimize them for VR.
Today, the tools to rapidly manipulate images are plentiful. My favorite to quickly prototype funky effects is Glitché. The creativity sprints from brainchild to fingertip and back as you experiment with layers of artsy distortion & datamoshing.
The feedback loops have an organic quality – images modified from images modified from images – one generation spawns the next, but the pixel DNA remains the same
---
OCTOBER
OCTOBER | Insta360
Julie and I were married in the Cape May Lighthouse in October 2016. It's 199 steps to the top where there's only room for 14 people. To honor its tiny capacity and our fifth anniversary, I made a tiny planet photo from the sky.
The image was captured using a 360 camera attached to a drone. Within seconds, I spun the image inside out on the Insta360 app to create the tiny planet effect.
Insta360 makes VR video cameras, but you don't need to own one of their cameras to use the free companion app. With a few taps in the Insta360 app you can reframe and keyframe.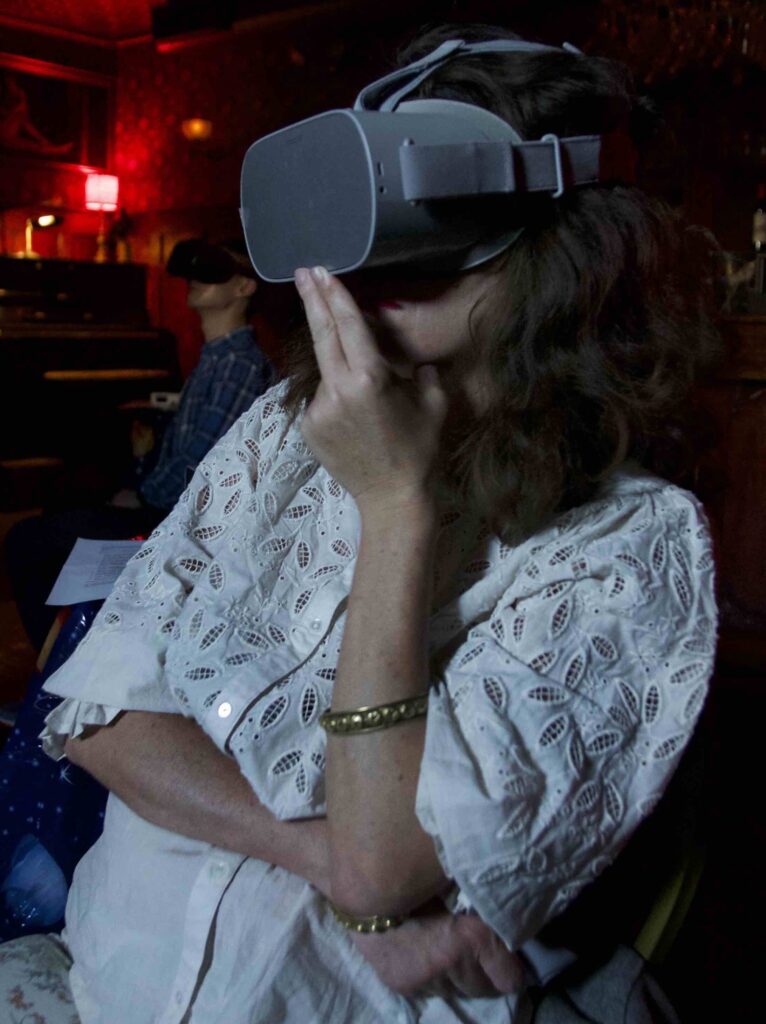 SVA adjunct professor and frequent collaborator, Alessandra Zeka is a Slipper Room regular. Catch her there every Wednesday, but make sure to bring your appetite for ample bar snacks, bubbly and booty.
We debuted a VR time capsule documenting NYC during election week 2020 and a sizzling sample of Micca's Sun Dae Day Daze in VR 180.
Attendees were invited on stage for a stereoscopic portrait and walked away with trick or treat bags full of BonBon chocolate and anaglyph glasses to view the 3D eye candy.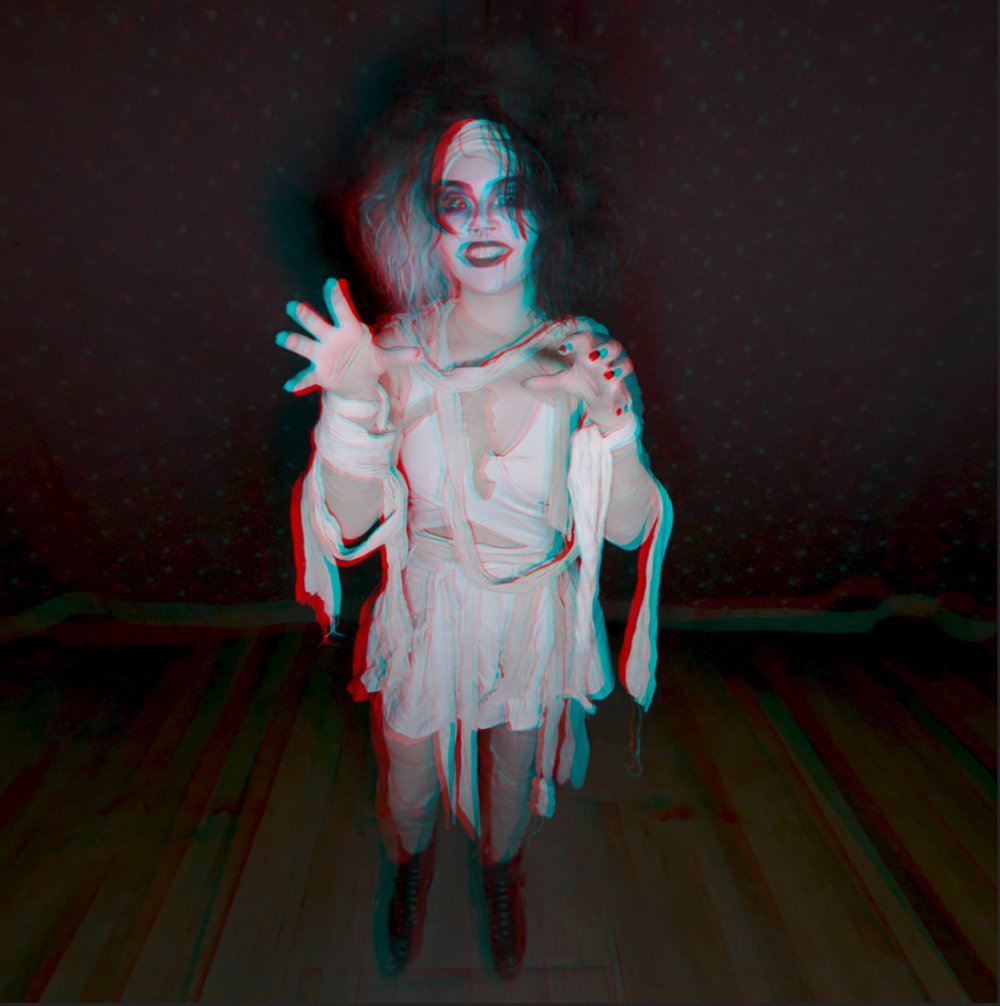 ---
NOVEMBER
Good packaging makes a product look like candy and it doesn't get sweeter than Satisfyer.
Satisfyer delivers intelligent designs and mind-blowing vibrations. Their revolutionary air pulse technology creates tingling pressure vacuums coupled with arousing pulsations for touch-free stimulation.
They also have an app.
Why, you ask, does a sex toy need an app? Here's a bullet point list:
🌈 Unlock endless personalized pleasure with customized vibration patterns.
🌐

Control your partner's Satisfyer product from across the bedroom or around the world.

💬 Chat with voice, text, photo…and video
🔥 Experiment with temperature on heat-enabled devices.
🔊 Let your favorite music turn you on as the product syncs with the sonic vibes.
⚡ Play and feel exclusive user-generated erotic stories.
It's an impressive feature set, but unfortunately not everyone is in the know! So, Satisfyer brought me on to create an augmented reality experience with the aim of educating the public about all the app has to offer.
Scan a QR code, point your phone at the Satisfyer box and, voila – AR magic!
In order to produce the AR experience, Satisfyer needed to send samples for research and development. When asked where to ship the products, I told the client to send them to Cape May. That's where I'd be heading next to stay with the in-laws (and Pal, the dog) again for a few weeks.
---
DECEMBER
If you measure it, you can manage it.
As an independent producer, I'm only accountable to myself for improvement.
It's easy to fall into the trappings of instinct and improvisation, but too much blowing with the wind can be an impediment to achieving goals.
So, to stay focused, I track my time with Toggl. Their app lets you analyze the allocation of hours across any timeframe with pie charts and bar graphs. Reflect. Recalibrate. Delegate.

Tracking my time directly benefited a collaboration with Levi's in December.
The objective was to create a virtual representation of the NYC showroom for B2B buyers, like Macy's.
We had one week to turn around the project – everything from production (capturing the 360 imagery) to post-production and publication across various platforms. 
After the shoot, I assembled a team of VR post specialists in Europe and Asia so that we could collectively work around the clock.
Deliverables were to submitted to the Levi's webmaster within one week, ready for launch.